Convion has reached a significant milestone of 5000 loading hours with a C50 SOFC product. Purpose of an internal validation project was to verify performance and functionality of the new C50 product and to gain long term operational experience of it. A new design including a unique process integration concept builds foundations for significant cost reduction of SOFC systems. Tests were a success and we were pleased with both performance and functionality of the system. With this milestone, we are happy to proceed towards demonstrating and piloting Convion SOFC CHP (Combined Heat and Power generation) product with customers. First deliveries will take place in Q3/2016 within a DEMOSOFC project.
Validation tests were carried out in in a controlled environment with a system equipped with 1/3 of the normal amount of SOFC stacks. Despite the reduced output, over 52% net-AC electrical efficiency was measured and a higher figure is expected at nominal capacity. Along with performance, main objectives were met by demonstrating safe, autonomous and reliable operation of the multi-stack arrangement under varying loading conditions. Additionally, process stability and response to changes in fuel composition at different load points as well as abnormal conditions such as interruption of fuel supply and power grid failure were tested. The achieved results were very encouraging and partially exceeded expectations
Local emissions
Local emissions of the C50 product in normal operation were quantified by third party measurements. As shown in the results below, Convion enable clean and sustainable power generation in urban areas. Local pollutants have a detrimental effect on human health and environment. The problem is particularly prominent in urban areas where contributions of energy production and traffic are summed together. Use of Convion products in power generation would reduce harmful emission in urban environment.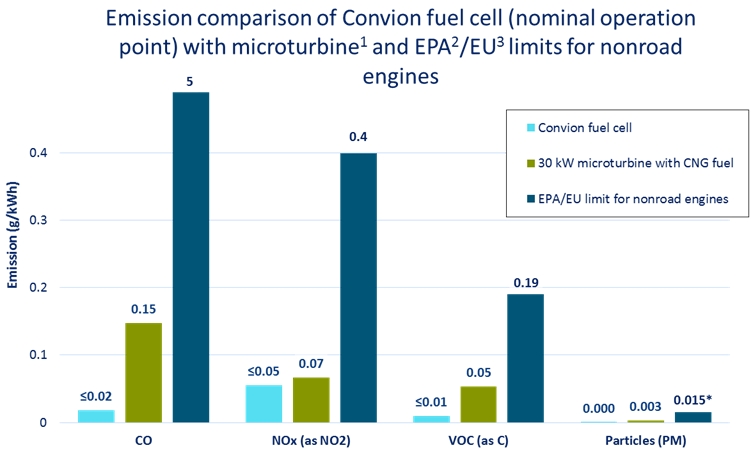 Figure 1 Sources: 1. 30 kW CNG turbine, http://www.greencarcongress.com/2010/12/c30-20101227.html; 2. Tier 4 emission standard for 56-130 kW compression-ignition (diesel) engines, EPA Title 40: Protection of Environment, Part 1039; 3. EU Stage V standard for all engine types, 56-130 kW, DieselNet – EU standards, Nonroad Engines; * EPA limit is 0.02 g/kWh
A note on the measurements: Due to the low levels of emissions, figures shown above as emissions of CO, NOx and VOC from Convion fuel cell are measurement determination limits. Actual emissions are lower or equal. We also measured particulate matter in our exhaust but emissions were below PM level at system air intake – indicating that particulates are removed from air when air goes through our SOFC system. Particulate emissions in exhaust were 0.0002g/kWh. EPA and turbine reference VOC emissions include non-methane hydrocarbons only while Convion C50 figure includes also methane and is still only a fraction of the reference values.
Back-up power mode
Validation tests demonstrated an ability of the C50 product to automatically switch between grid connected and grid independent (island) operation mode in an event of power grid failure, to provide secured power for critical customer loads. Tests included verification of the C50 capability to switch between modes and a capability to supply steady as well as transient loads with power at an islanding grid.
The C50 product supports paralleling of units for needs of customers with higher power ratings. Furthermore, the C50 unit is capable for continuous, uninterrupted power production and is able to contribute power as well as reactive power regulation. These functionalities benefit future smart grids with combinations of sun, wind, and energy storage, whose power production is inherently arbitrary or limited.
Biogas operation
Convion technology makes possible flexible use of different types of fuel gases – natural gas or biogases – without a compromise in power generation efficiency. The C50 product has been designed for a fuel envelope covering typical digester quality biogases, i.e. ≥55%-mol CH4, without a need for down-rating power output. In the validation tests, operability and performance with dilute fuel gas mixtures was successfully verified. This gives us a great confidence to proceed towards our next target, a biogas co-generation demonstration in Turin, Italy, where 3 C50 modules will be installed to a waste water treatment plant of Società Metropolitana Acque Torino S.p.A. (SMAT). For details of the demonstration project, please visit www.demosofc.eu.
Tallenna